Rim Locks and Latches – The US Locksmith Pros Guide
The world we live in determines what our approach towards it must be. Unfortunately, crime is a constant reality of the day and we have to be prepared for it. No one wants to be surprised by burglars in their home just as no one wants to wake up at night to find a stranger next to their bed. Your home is the one place where you should feel safe and secure.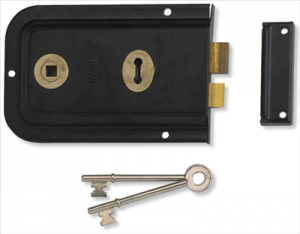 It is up to you to make sure you and your loved ones sleep peacefully at night. Apart from the standard locks that all homes have, you can install additional security that is not going to cost the earth. We all know that normal security is not going to stop a determined and experienced burglar. Where there is a will there is a way and burglars tend to find ways. So, make it as difficult as possible for the criminal to enter your house and consider installing a rim lock or latch to your doors. Rim locks can be anything from standard security to more advanced locks.
A rim lock is a device that is attached to the surface of a door. It can be used on interior or exterior doors but is mostly attached to the outer doors. The rim lock is fitted on the inside of the door. One would always open a rim lock with a key from the outside but depending on the level of security, one would use either a key or a latch on the inside.
The most basic rim lock, also known as a Yale lock, is opened with a key from the outside but has a knob on the inside that you turn to lock or unlock it. Yale locks are often used in the place of more traditional locks on a front door although it is usually not the only lock on the door. The disadvantage of this kind of lock is that it can easily be opened with a credit card or similar card from the outside by merely swiping the card through the lock. The advantage is that you can pull the door shut behind you and lock it quickly by turning the knob to the closed position.
If you are on the lookout for something that is more secure, the basic rim lock will not be for you. More advanced rim locks are available and are opened with a key on the inside and the outside. Many of the rim locks are deadbolts and far better security than the standard basic one. Single cylinder deadbolts will offer additional security but for even better security, you can fit the double cylinder deadbolt.
When locked, these cylinders interlock and it is not so easy for burglars to bypass it. It definitely will not be opened with a credit card. The rule of thumb is that one would fit a rim lock or latch as additional security to a door. This means that the thief has two sets of locks to break through before they enter your house. An ordinary door lock with a Door Lock Cylinder is your first line of defense. But don`t be fooled into thinking that this is enough security to stop a would-be burglar.
top